Why Choose a Career in 3D Design?
What is 3D Design?
3D Design consists of creating representations of places, people, items, and actions and bringing these elements to life. The process of creating these representations is known as three-dimensional design, and is a career path that many people, especially with the development of innovative technology in recent years, choose to pursue. Careers in 3D Design can span various industries and applications as it is a fast-growing industry.  
For the creatively inclined, Dorset College Dublin offers a QQI Level 5 qualification in 3D Modelling, Animation & Game Design which will allow learners to nurture their talents and bring their ideas to life. This 3D Modelling, Animation, and Game Design programme will teach you how to model objects while developing high-quality 3D environments. You will then populate these environments with original characters, bringing them to life with the latest animation techniques.
The course covers the basics of modeling, sculpting, texturing, rigging and animation and is designed to build up a portfolio of work. You will develop the essential skills and knowledge in 3D modelling, animation, and game design that will enable you to take your first steps into a new career in this exciting field.
The 3D Design, Animation and Game Design course is delivered through 100% live online sessions with industry professionals to guide and support you in achieving your goals.
What does a career in 3D design involve?
Careers in 3D design often involve taking one-dimensional representations of things, including places, people, processes, and actions, and creating three-dimensional representations. Working in 3D design involves using a range of software programs and tools to create those 3D models or visual representations.
In this role, you might work with people of all backgrounds and professions, such as scientists, engineers, architects, marketing professionals, advertisers or even filmmakers and video game designers. The need for three-dimensional design spans many different industries and applications. With a long tradition of animated film making in Dublin, and recent award nominations for several Irish productions, the animation industry in Ireland has never been stronger.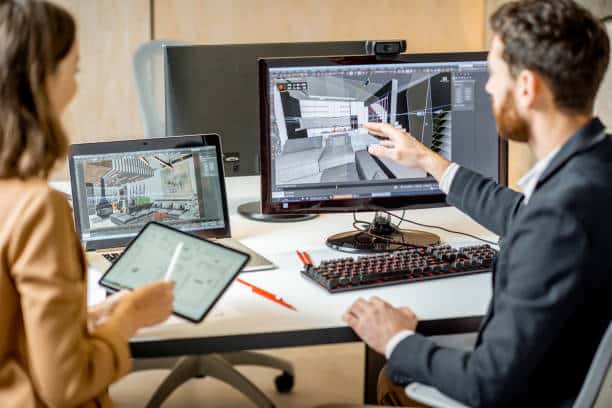 Careers in 3D design
Those with an interest of working in 3D design can find many career opportunities and pathways. Entry-level positions in the 3D design sphere offer great opportunities for growth and advancement, as well as the chance to network with many knowledgeable professionals.
These careers can include:
Video game designer
3D printing technician
Graphic designer
3D animator / 3D designer
Architectural designer
Art Director
Web developer
Useful tools/systems for beginners:
The main system that Dorset College learners use for the 3D Modelling, Animation & Game Design programme is Blender. Blender is a free, open-source 3D modeling tool created for artists and small teams. Despite being free to download, it contains a variety of powerful tools. Using Blender, learners will be shown how to build and texture props, sculpt characters, and develop detailed environments for TV and film.
Other useful systems include Unity 3d (available for free from unity3d.com and image-editing software like Photoshop, Krita and Pixlr for example.
What our Alumni say:
'Having a weekly project like creating a 3D models, learning to animate a character etc. kept challenging me and pushed me to get better. Looking at other students' amazing work is very satisfying and encourages you to keep learning'. Natalia Pérez, 3D Modelling, Animation & Introduction to Game Design student.
Read Natalia's full testimony here: https://dorset.ie/portfolios/meet-natalia-perez/
How can I apply?
If you would like to start your career in the 3D Design industry, you can apply via our website https://dorset.ie/courses/3d-modelling-animation-introduction-to-game-design/ or you can speak with a Sales Advisor, [email protected], who would be happy to help.